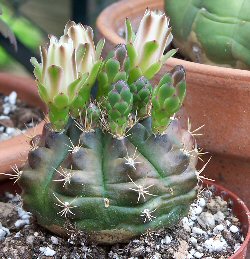 I like the article
Cultivation
Gymnocalycium andreae
This plant in the spring, summer, autumn, winter assumes a yellow colouring; it is small in size and can reach 10 cm high. It keeps its leaves in the winter. Growing they develop a round-shape shrub. The Gymnocalycium andreae is a succulent plant.
Fertilize Gymnocalycium andreae
During the beautiful season it's good to enrich the soil of our succulent plants; we advise using a fertilizer rich in potassium and phosphorous, but poor in nitrogen, because this chemical element doesn't help the development of succulent plants, making them too soft and full of water.
Light Gymnocalycium andreae

The Gymnocalycium andreae is a pretty delicate plant, which fears minimum temperatures below 15°C; during late spring it can be cultivated outdoors. Plant which need at least a few hours a day of solar light.A great part of succulent plants can endure low temperatures, even below 5°C, but if we're growing them in a harsh climate we must avoid watering.
Water Gymnocalycium andreae

We suggest watering these plants with 1-2 glasses of water only when the soil is perfectly dry, generally it needs to be watered about every 4-5 weeks . Let's avoid to exceed. Succulent plants can also endure long periods of time without watering; usually as the climate gets colder they need less water, while during the summer months they should be watered abundantly .
Pests Gymnocalycium andreae
The spring weather, with a high temperature swing between the day and night hours, and pretty frequent rains, can favour the development of fungus diseases, which should be treated pre-emptively with a systemic fungicide, to use before the gems grow excessively; at the end of the winter we also suggest a wide range insecticide to prevent the attack of aphids and cochineals. We should always remember to do these treatments when there aren't flowerings in the garden.
Mold Gymnocalycium andreae
These succulent plants need to be located in an accentuated and drained substratum. We suggest repotting every 2-3 years.
| | | | | | | |
| --- | --- | --- | --- | --- | --- | --- |
| Climate | peat | sand | Soil | Pumice | Bark | S. Organic |
| alpine | 0 | 1 | 3 | 0 | 0 | 0 |
| continental | 0 | 1 | 3 | 0 | 0 | 0 |
| mediterranean | 0 | 1 | 3 | 0 | 0 | 0 |
Like

Plant - Gymnocalycium andreae
Seeing the quite contained development it's possible to grow these plants in a container. The indications given in this article are related to a medium size plant.
This page concerns the weather mediterranean it is possible to choose another climate area
alpine
continental
write a comment on this plant.