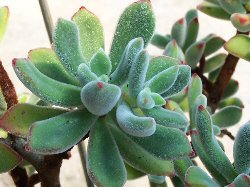 I like the article
Cultivation
Echeveria pulvinata
Echeveria pulvinata Is an evergreen; during spring, summer, autumn, winter iIt assumes a redpink colouring; the adult specimens are medium in size and reach 30 cm high. The Echeveria pulvinata has a panel-like development, therefore it tends to widen very much. These plants are succulent .
Fertilize Echeveria pulvinata
In this period of the year, letís remember to enrich the soil of our succulent plants, using, every 15-20 days, a specific fertilizer; fertilizers for succulent plants must be poor in nitrogen to avoid them from producing too much vegetation which would be easily attacked by fungal diseases.
Light Echeveria pulvinata

These plants are grown in apartment or in a temperated green house; they can be brought outdoors when the minimum temperatures are above 15į C. The Echeveria pulvinata should be preferably located in a place where it can have at least a few hours a day of direct solar light.Succulent plants can also be cultivated in a cold green house, with temperatures which must be below 5įC for many species, but in this case itís necessary to keep them totally dry.
Water Echeveria pulvinata

Let's water abundantly, moistening the soil deeply with 1-2 glasses of water , but let's act only when the substratum is dry, leaving it dry even for 4-5 weeks before watering it. Letís remember that the succulent plants can withhold water inside their materials, therefore they need to be watered only when the weather is hot.
Pests Echeveria pulvinata
As the day-time temperatures rise at the beginning of the spring, it is agreeable to practice a preventive treatment, with a wide-range insecticide, which should be applied when there arenít flowerings in the garden. Before the buds become too large, it is advisable to also treat them with a wide-range fungicide, to prevent the development of fungal diseases which spread easily when there is an elevated environmental moisture.
Mold Echeveria pulvinata
Grow in a soft and sandy, very well drained soil.
| | | | | | | |
| --- | --- | --- | --- | --- | --- | --- |
| Climate | peat | sand | Soil | Pumice | Bark | S. Organic |
| alpine | 0 | 1 | 3 | 0 | 0 | 0 |
| continental | 0 | 1 | 3 | 0 | 0 | 0 |
| mediterranean | 0 | 1 | 3 | 0 | 0 | 0 |
Like

Plant - Echeveria pulvinata
If desired, we can grow the the Echeveria pulvinata in a container. The indications given in this article are related to a medium size plant.
This page concerns the weather mediterranean it is possible to choose another climate area
alpine
continental
write a comment on this plant.