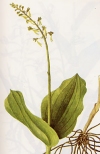 I like the article
Generalities
Listera ovata
This plant in the spring assumes a yellowgreen colouring; it is small in size and can reach 60 cm high. It doesn't keep its leaves in the winter. The Listera ovata has a panel-like development, therefore it tends to widen very much. These plants are perennial herbs.
Fertilization Listera ovata
Let's avoid fertilizing our orchids during flowering; during the spring let's act every 20-25 days, using a specific fertilizer, avoiding to leave fertilizing solutions in direct contact with the roots for too long.
Exposure Listera ovata

These plants don't fear the cold weather and therefore can be grown in the garden during any time of year. For a balanced development, it is best to position the the Listera ovata in a partially shady place, where it can enjoy direct sunlight only during the coolest hours of the day.These plants prefer very bright places, but we should avoid direct sunrays, especially during the hottest days of the year.
Watering Listera ovata

Water regularly, every The , wetting the ground deeply with 1-2 glasses of water , always waiting for the soil to be dry before watering; avoid leaving stagnant water. Orchids in general favour a pretty moist soil; to water correctly it is advisable to water these plants by immersion, therefore soaking the containers in water up to the edge; when the water has reached the top part of the substratum we can take out the vases and let the excess water drain well.
Treatments Listera ovata
A treatment based on mineral oil or insecticide should be applied only in cases of infesting by parasites, paying attention not to vaporize the flowers.
Soil Listera ovata
They need an averagely drained cultivation substratum.
| | | | | | | |
| --- | --- | --- | --- | --- | --- | --- |
| Climate | peat | sand | Soil | Pumice | Bark | S. Organic |
| alpine | 3 | 0 | 0 | 0 | 3 | 0 |
| continental | 2 | 0 | 0 | 0 | 3 | 0 |
| mediterranean | 1 | 0 | 0 | 0 | 3 | 0 |
Like

Notes - Listera ovata
If desired, we can grow the the Listera ovata in a container. The indications given in this article are related to a medium size plant.
This page concerns the weather continental it is possible to choose another climate area
alpine
mediterranean
write a comment on this plant.