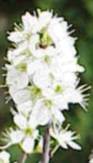 I like the article

Generalities Blackthorn
The Blackthorn develops like a shrub. Growing they develop a round-shape shrub. Blackthorn isn't an evergreen; during the summer it assumes a purplered colouring; the adult species are large in size and reach 5 m in height.

Exposure Blackthorn


For a balanced development, it is best to position the The Blackthorn in a place where it is exposed to at least a few hours of direct sunlight. The Blackthorn plant can be grown in the garden throughout the whole year. It doesn't fear cold weather and it bears very harsh minimum temperatures.During the winter young plants could need a light protection from the wind or cold; when putting the very young specimens, with a thin stem, in shelter, we should provide them with a high stake to keep them erect.
Watering Blackthorn


We suggest watering these plants only from time to time, but we must remember to wet the soil deeply using 1-2 buckets of water every 4-5 weeks . The young specimens, recently sheltered, need more cures compared to the adult specimens: as the years go by the development of a good radical apparatus allows the plant to be satisfied with the rain, without needing other waterings.
Treatments Blackthorn
The spring weather, with a high temperature swing between the day and night hours, and pretty frequent rains, can favour the development of fungus diseases, which should be treated pre-emptively with a systemic fungicide, to use before the gems grow excessively; at the end of the winter we also suggest a wide range insecticide to prevent the attack of aphids and cochineals. We should always remember to do these treatments when there aren't flowerings in the garden.
Soil Blackthorn
Let's place these trees in a soft and deep, but well drained, soil.
| | | | | | | |
| --- | --- | --- | --- | --- | --- | --- |
| Climate | peat | sand | Soil | Pumice | Bark | S. Organic |
| alpine | 4 | 0 | 2 | 1 | 0 | 1 |
| continental | 3 | 0 | 2 | 2 | 0 | 1 |
| mediterranean | 2 | 0 | 2 | 3 | 0 | 1 |
Like

Notes - Blackthorn
There aren't any notes. The indications given in this article are related to a medium size plant.
This page concerns the weather continental it is possible to choose another climate area alpine mediterranean