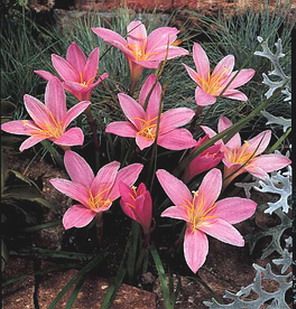 I like the article

Cultivation Rosepink zephyrlily
The Rosepink zephyrlily develops bulbs or tubers. The development of the The Rosepink zephyrlily is Rosepink zephyrlily isn't an evergreen; during the autumn it assumes a pink colouring; the adult species are medium in size and reach 30 cm in height.

Light Rosepink zephyrlily


Plant which need at least a few hours a day of solar light. We suggest growing the The Rosepink zephyrlily in a place where it's sheltered by frost; when all dangers of late freezings are gone we can locate them outdoors.During the period of vegetative rest, itís possible to take the bulbs or tubers out of the ground; the well cleaned and dried bulbs should be placed in a cool, dry and dark place; to be planted later on during the most indicated time of year.
Water Rosepink zephyrlily


We suggest watering these plants with 1-2 glasses of water only when the soil is perfectly dry, generally it needs to be watered about every 1-2 weeks . Let's avoid to exceed. To avoid that the bulb or tuber should become rotten, we must remember to avoid excessively abundant waterings, which keep the soil wet for a long time.
Pests Rosepink zephyrlily
The spring weather, with a high temperature swing between the day and night hours, and pretty frequent rains, can favour the development of fungus diseases, which should be treated pre-emptively with a systemic fungicide, to use before the gems grow excessively; at the end of the winter we also suggest a wide range insecticide to prevent the attack of aphids and cochineals. We should always remember to do these treatments when there aren't flowerings in the garden.
Mold Rosepink zephyrlily
We advise cultivating these bulbous plants in a soft and light, very well drained, soil.
| | | | | | | |
| --- | --- | --- | --- | --- | --- | --- |
| Climate | peat | sand | Soil | Pumice | Bark | S. Organic |
| alpine | 5 | 0 | 4 | 0 | 0 | 1 |
| continental | 4 | 0 | 4 | 0 | 0 | 1 |
| mediterranean | 3 | 0 | 4 | 0 | 0 | 1 |
Like

Plant - Rosepink zephyrlily
Seeing the quite contained development itís possible to grow these plants in a container. The indications given in this article are related to a medium size plant.
This page concerns the weather mediterranean it is possible to choose another climate area alpine continental