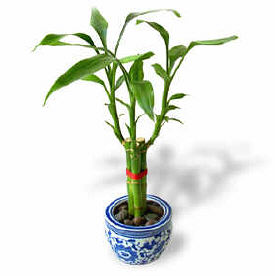 I like the article
Cultivation
Dracaena sanderiana
The Dracaena sanderiana Is small in size; in winter it assumes a green colouring. These are evergreen plants, which means they keep their leaves year round. These plants have an erect, columnar development. The Dracaena sanderiana has a shrub- like development.
Fertilize Dracaena sanderiana
During this period of the year it's good to fertilize our plants every 15-20 days; letís choose a specific fertilizer, for house plants, flowering or green ones, to add to the water used to irrigate. We should prefer fertilizers rich in nitrogen and potassium, to favour flowering and the development of new vegetation.
Light Dracaena sanderiana

We advise cultivating the the Dracaena sanderiana in a covered place, in an apartment or green house, as they don't like temperatures below 15įC: during late Spring they can be moved outdoors. Locate this plant in a partially shady place, where it can take in the solar rays during the coolest hours of the day.Let's position the plants where they can enjoy a good source of light,yet avoiding direct sunshine, which could cause antiaesthetic burnings on the foliage.
Water Dracaena sanderiana

The Dracaena sanderiana prefers a slightly humid soil, trying to water it often, avoiding to let it dry totally. Let's use 3-4 glasses of water every 0-1 weeks . Let's remember to empty the plant saucers after watering, to avoid that stagnant water could damage the roots.
Pests Dracaena sanderiana
Generally during this time of year we suggest a pre-emptive treatment with wide range insecticide and with a systemic fungicide, to prevent the attack from part of the aphids and the development of fungus diseases, often favoured by a mild and damp climate.
Mold Dracaena sanderiana
Letís place these apartment plants in containers filled with scarcely drained soil, which maintains humidity for long. Every 2-3 years letís repot the plants with new soil.
| | | | | | | |
| --- | --- | --- | --- | --- | --- | --- |
| Climate | peat | sand | Soil | Pumice | Bark | S. Organic |
| alpine | 3 | 1 | 2 | 1 | 0 | 1 |
| continental | 2 | 2 | 2 | 2 | 0 | 1 |
| mediterranean | 1 | 3 | 2 | 3 | 0 | 1 |
Like

Plant - Dracaena sanderiana
When wanted we can grow these plants in a vase. The indications given in this article are related to a medium size plant.
This page concerns the weather mediterranean it is possible to choose another climate area
alpine
continental
write a comment on this plant.